Website maker Wix embarks on weird WordPress-trashing campaign, sends 'influencer' users headphones from 'WP'
theregister.co.uk
---
Hosting company Wix is apparently running a bizarre campaign in an attempt to win over WordPress customers, causing WordPress founder Matt Mullenweg to accuse Wix of "dirty tricks."
WordPress is the content management system giant, with a 64.7 per cent market share and used in some measure by 40.9 per cent of active websites, according to W3Techs. Wix by contrast has a 2.4 per cent market share, though that is enough to place it fifth, behind Squarespace but above Drupal.
Wix kicked off its new campaign by apparently sending expensive Bose noise-cancelling headphones to selected people they considered to be influencers – the odd thing being that the gift was marked "Yours WP," though the sender was Wix.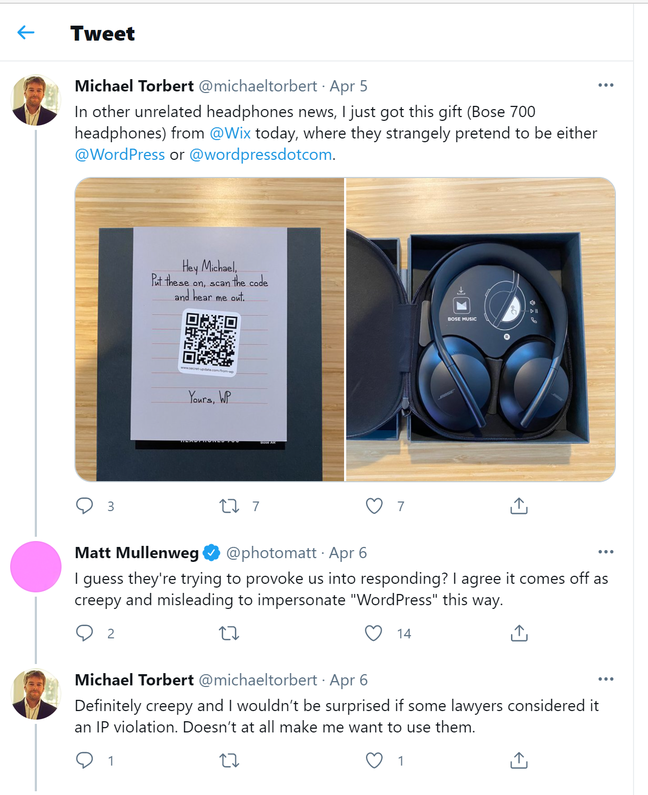 A QR code on the package linked to a video in which a spoof WordPress guy complains that "Wix is coming up with a campaign trashing me ...


Copyright of this story solely belongs to theregister.co.uk . To see the full text click HERE